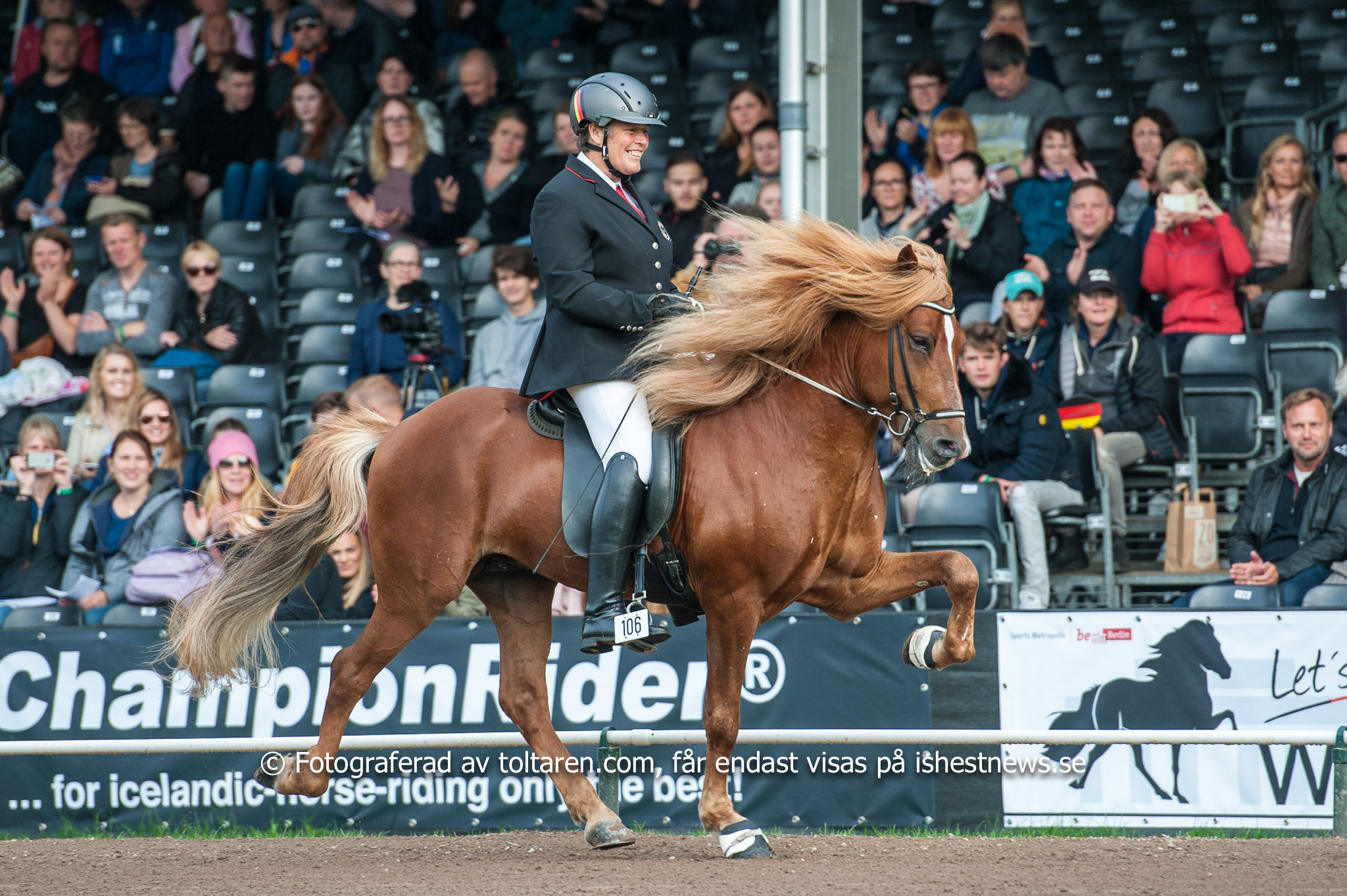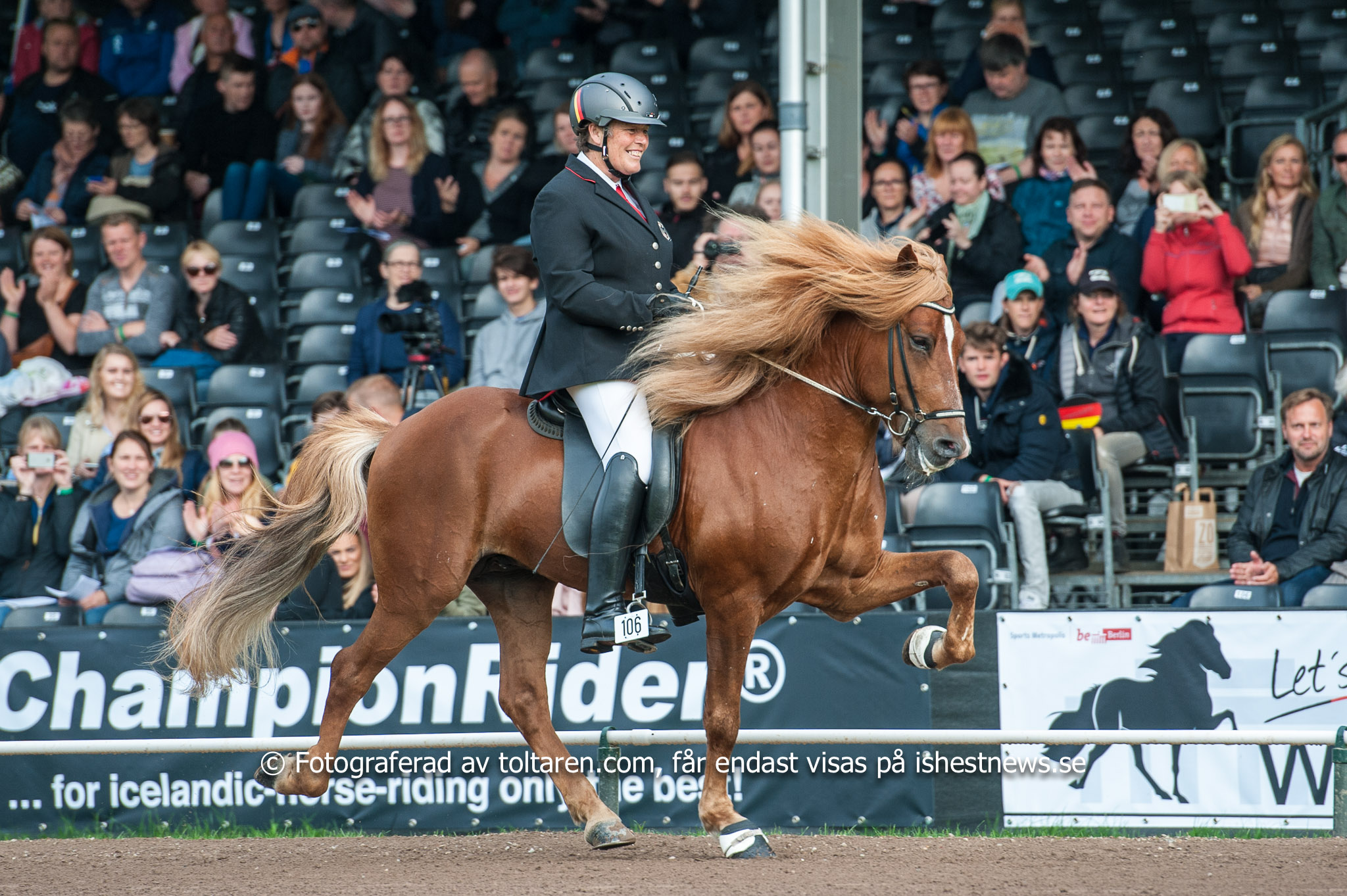 During this afternoon the prerounds in T2 were finished with some very good shows!
Reynir Örn Pálmason (WC) did a great peformance with his gelding Spói fra Litlu-Brekku and ended up with 7,83 which is the third position so far. Julie Christiansen and Bliki frá Efri-Raudalaek also made it to the A-final. Jolly Schrehnk and Glaesir is in the lead with 8.43 and Johanna Tryggvason and Fönix at the second position with 8.40.
It is very impressive to see that out of the top six horses in this disiplin, four af them are bred from the same area in Eyjafjördur northen Iceland. Spói frá Litlu-Brekku, Fönix frá Sydra-Holti, Bliki frá Efri-Raudalaek and Hölkvir frá Ytra-Dalsgerdi are all brought up in the Eyjafjödur area, as well as Kjarkur frá Skridu which is in the 13th place and Pistill frá Litlu-Brekku (same farm as Spói is from) is in the A-finals for the YR with his great rider Gustaf Asgeir Hinriksson.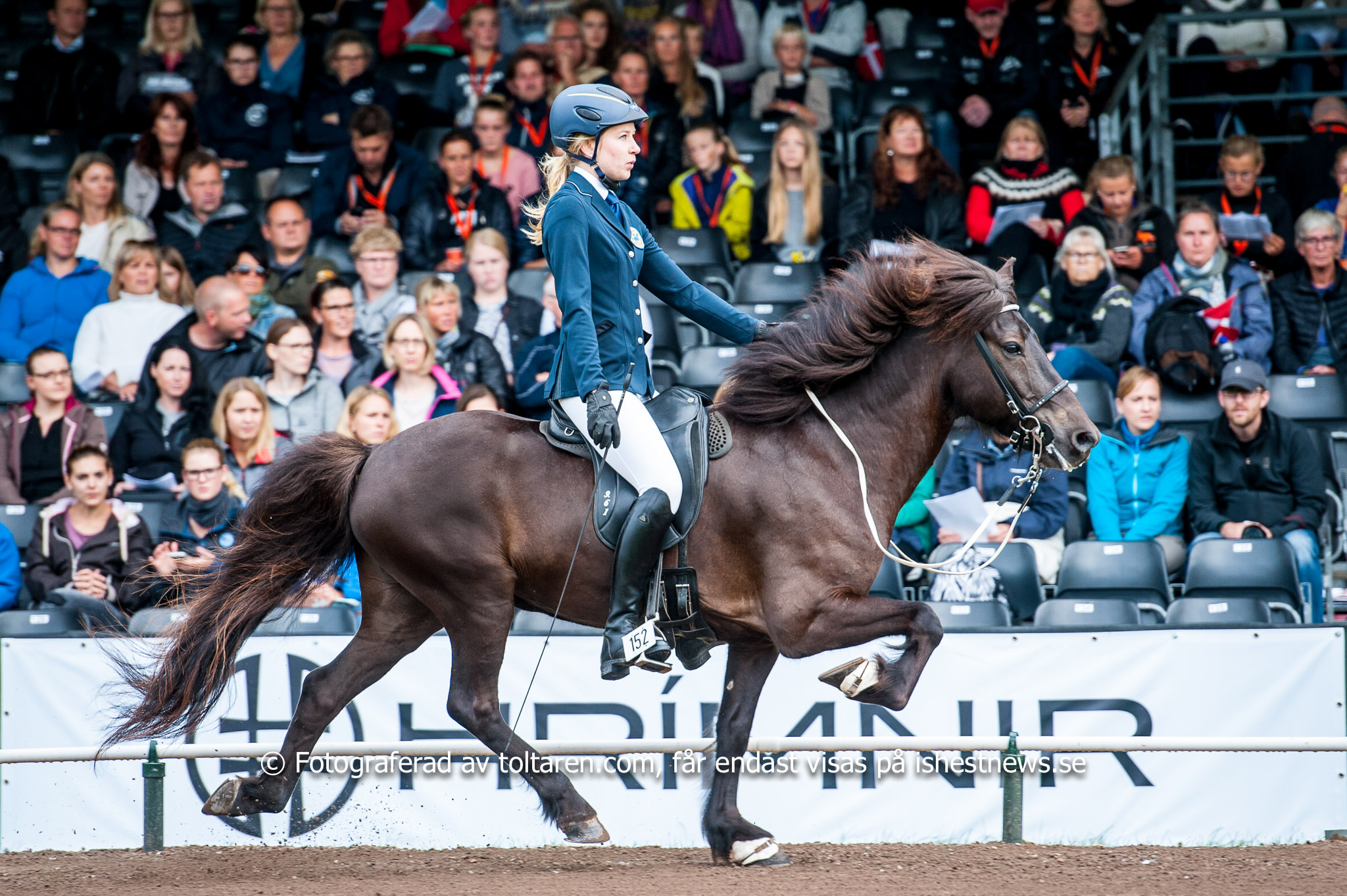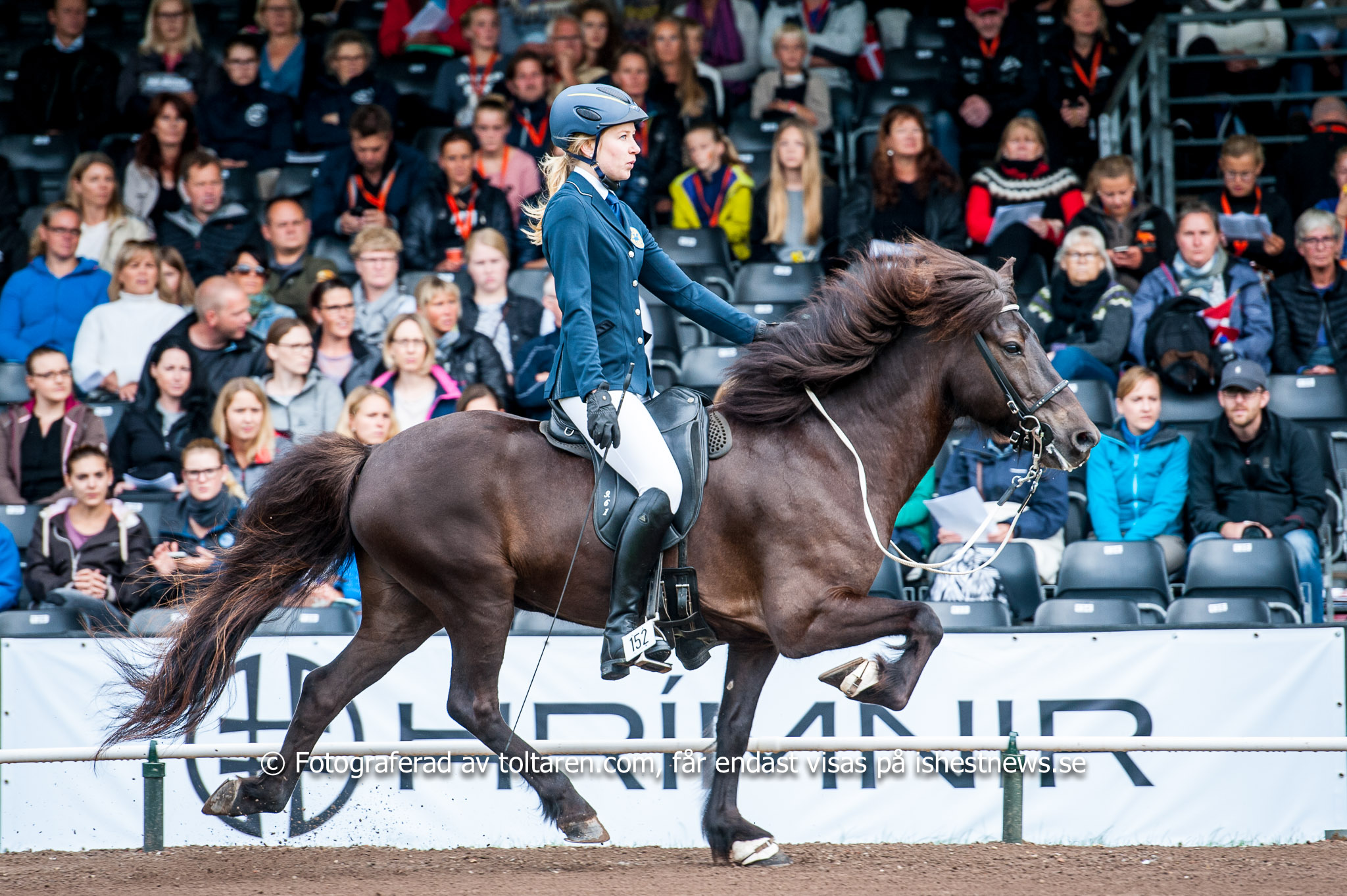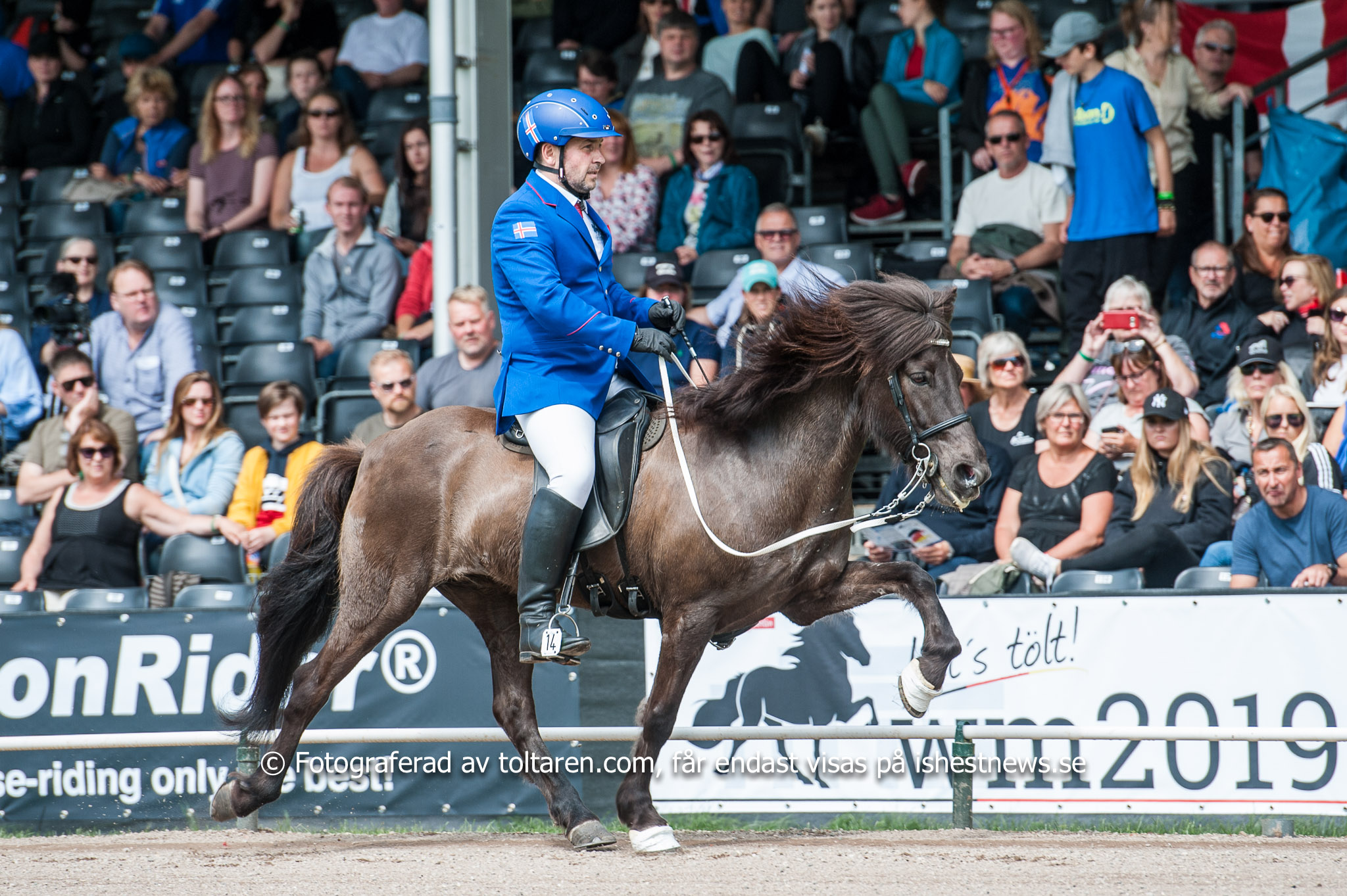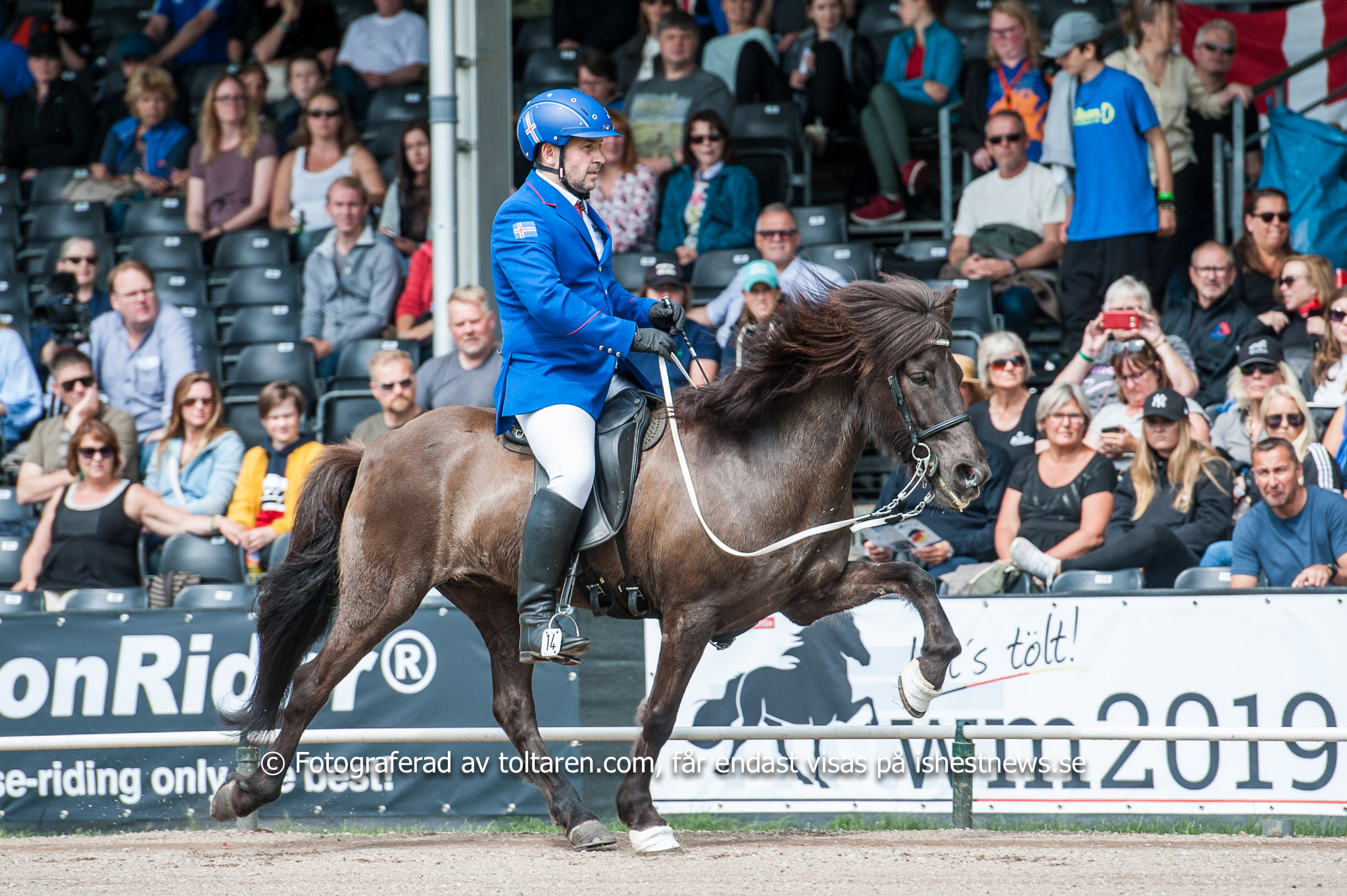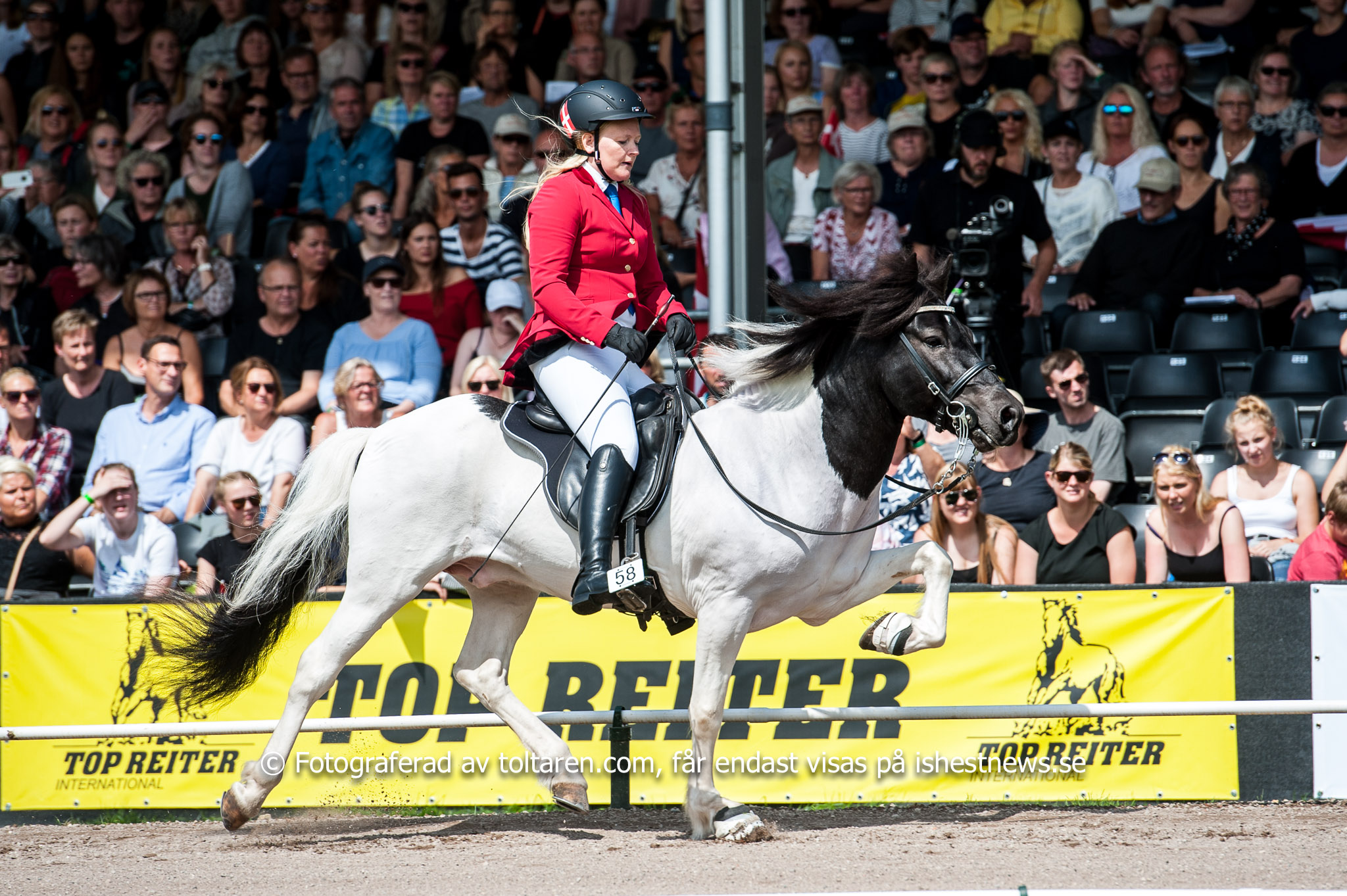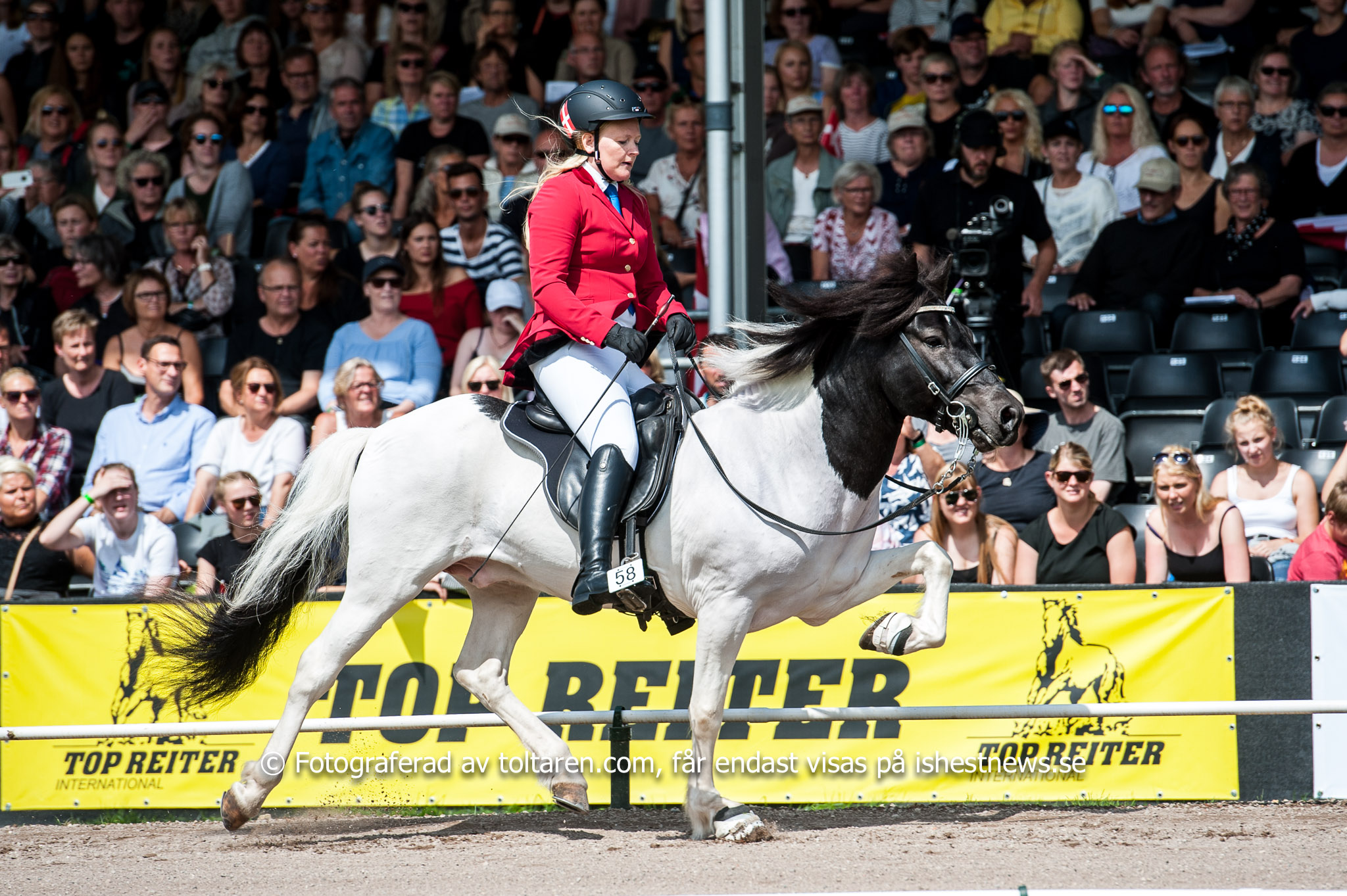 POS
#
RIDER / HORSE
TOT
01:
106
Jolly Schrenk [DE] – Glæsir von Gut Wertheim [DE2007141621]
8,43
PREL 8,6 – 8,0 – 8,3 – 8,5 – 8,5
02:
105
Johanna Tryggvason [WC] [DE] – Fönix frá Syðra-Holti [IS2006165087]
8,40
PREL 8,5 – 8,4 – 9,0 – 8,0 – 8,3
03:
014
Reynir Örn Pálmason [WC] [IS] – Spói frá Litlu-Brekku [IS2005165004]
7,83
PREL 7,4 – 7,6 – 7,9 – 8,0 – 8,0
04:
058
Julie Christiansen [WC] [DK] – Bliki frá Efri-Rauðalæk [IS2008164494]
7,57
PREL 7,6 – 7,6 – 7,8 – 7,5 – 7,3
05:
076
Arnella Nyman [FI] – Thór från Järsta [SE2003104825]
7,33
PREL 7,5 – 7,4 – 7,1 – 7,5 – 6,8
06:
071
Elin Tindskarð [FO] – Hölkvir frá Ytra-Dalsgerði [IS2002165791]
7,30
PREL 7,1 – 7,4 – 7,0 – 7,4 – 7,5
07:
099
Frauke Schenzel [DE] – Gustur vom Kronshof [DE2009134130]
7,13
PREL 7,1 – 7,3 – 7,0 – 6,3 – 7,3
08:
152
Clara Olsson [YR] [SE] – Þór frá Kaldbak [IS2005186297]
7,10
PREL 7,1 – 6,8 – 7,1 – 7,3 – 7,1
09:
098
Brynja Sophie Arnason [YR] [DE] – Skuggi frá Hofi I [IS2005177785]
7,03
PREL 7,3 – 7,0 – 7,1 – 7,0 – 6,8
10:
167
Vignir Jónasson [WC] [SE] – Ivan från Hammarby [SE2007108169]
7,00
PREL 7,0 – 7,3 – 7,0 – 7,0 – 6,5
11:
162
Magnús Skúlason [SE] – Valsa från Brösarpsgården [SE2009210614]
6,83
PREL 6,5 – 6,9 – 6,6 – 7,0 – 7,1
12:
062
Rosemarie Wodschow [YR] [DK] – Léttir fra Hellesylt [NO2004115369]
6,80
PREL 6,9 – 6,9 – 7,0 – 6,6 – 6,4
13:
019
Viðar Ingólfsson [IS] – Kjarkur frá Skriðu [IS2008165300]
6,77
PREL 6,6 – 6,9 – 6,8 – 6,5 – 7,4
13:
109
Lisa Drath [DE] – Bassi frá Efri-Fitjum [IS2007155050]
6,77
PREL 6,8 – 7,0 – 6,0 – 6,6 – 6,9
15:
180
Mara Daniella Staubli [CH] – Hlébarði frá Ketilsstöðum [IS2005176173]
6,67
PREL 6,6 – 6,8 – 6,9 – 6,6 – 6,6
16:
046
Toke Van Branteghem [BE] – Skrýmir frá Wyler [NL2006100059]
6,57
PREL 6,6 – 6,5 – 7,0 – 6,6 – 6,4
17:
006
Gústaf Ásgeir Hinriksson [YR] [IS] – Pistill frá Litlu-Brekku [IS2007165003]
6,47
PREL 6,5 – 6,1 – 6,9 – 6,4 – 6,5
17:
174
Fabienne Greber [YR] [CH] – Hágangur vom Kreiswald [DE2003163112]
6,47
PREL 6,6 – 6,4 – 6,9 – 6,3 – 6,4
17:
207
Yoni Blom [NL] – Bjartur frá Aquadraat [NL2006100042]
6,47
PREL 6,6 – 6,1 – 6,4 – 6,6 – 6,4
20:
025
Carole Herritsch [YR] [AT] – Höfðingi frá Sælukoti [IS2004181743]
6,40
PREL 6,4 – 6,4 – 6,1 – 6,6 – 6,4
20:
172
Caroline Wyser [CH] – Kjuði frá Kirkjuferjuhjáleigu [IS2000182021]
6,40
PREL 6,5 – 6,4 – 6,3 – 6,5 – 5,9
20:
185
Silvia Ochsenreiter-Egli [CH] – Heljar frá Stóra-Hofi [IS2003186003]
6,40
PREL 6,4 – 6,1 – 6,3 – 6,8 – 6,5
23:
082
Veera Sirén [YR] [FI] – Jarl frá Mið-Fossum [IS2002135538]
6,37
PREL 6,6 – 6,1 – 6,4 – 6,3 – 6,4
24:
013
Máni Hilmarsson [YR] [IS] – Prestur frá Borgarnesi [IS2009136036]
6,23
PREL 5,8 – 6,3 – 6,3 – 6,1 – 6,4
24:
041
Eric Fokker [YR] [BE] – Prins-Rolex vom Vorsenzhof [DE2008173270]
6,23
PREL 6,1 – 6,3 – 6,0 – 6,5 – 6,3
26:
177
Lea Hirschi [YR] [CH] – Snotri vom Steinbuckel [DE2008163439]
6,17
PREL 6,1 – 6,4 – 6,1 – 5,9 – 6,3
27:
035
Oliver Kubinger [AT] – Dimmi vom Moarschusterhof [DE2007184939]
6,07
PREL 6,4 – 6,4 – 5,9 – 5,1 – 5,9
27:
125
Sandy Carson [YR] [GB] – Svava fra Bakkeholm [DK2008208218]
6,07
PREL 6,0 – 5,5 – 6,3 – 5,9 – 6,4
29:
045
Stijn Rottiers [BE] – Skyggnir frá Bessastöðum [IS2004155570]
5,97
PREL 5,8 – 6,0 – 6,1 – 6,0 – 5,9
30:
077
Desirée Alameri [YR] [FI] – Þeyr fra Guldbæk [DK2005107156]
5,93
PREL 6,1 – 5,9 – 5,6 – 5,9 – 6,0
31:
108
Lea Brill [YR] [DE] – Kolgrímur vom Neddernhof [DE2006134383]
5,90
PREL 5,9 – 5,9 – 5,8 – 6,5 – 5,9
31:
204
Mieke van Herwijnen [NL] – Ómar frá Vestri-Leirárgörðum [IS2007135471]
5,90
PREL 5,6 – 6,1 – 6,3 – 5,4 – 6,0
33:
133
Andrea V Thunem [YR] [NO] – Baugur frá Tunguhálsi II [IS2004157896]
5,87
PREL 5,9 – 5,6 – 6,1 – 5,4 – 6,1
34:
036
Sarah Höfinger [YR] [AT] – Stjarna frá Húnsstöðum [IS2005256366]
5,77
PREL 5,4 – 5,9 – 5,6 – 5,8 – 6,4
35:
042
Frans Goetschalckx [BE] – Smellur frá Leysingjastöðum [IS2001156306]
5,60
PREL 5,6 – 5,6 – 5,6 – 5,0 – 5,6
36:
026
Daniela Pogatschnig [AT] – Effekt frá Meðalfelli [IS2007125087]
5,20
PREL 4,9 – 5,5 – 5,3 – 4,1 – 5,4
37:
202
Leonie Claudia Van Eijken [YR] [NL] – Snerpa [DE2006243422]
4,83
PREL 4,9 – 4,8 – 3,9 – 5,6 – 4,8
38:
203
Manon de Munck [YR] [NL] – Straumur frá Seljabrekku [IS2004125130]
4,70
PREL 4,3 – 4,8 – 4,8 – 4,5 – 4,9
39:
119
Ann Savage [GB] – Lipurtá frá Hóli II [IS2007265896]
3,50
PREL 3,3 – 4,1 – 3,6 – 2,3 – 3,6