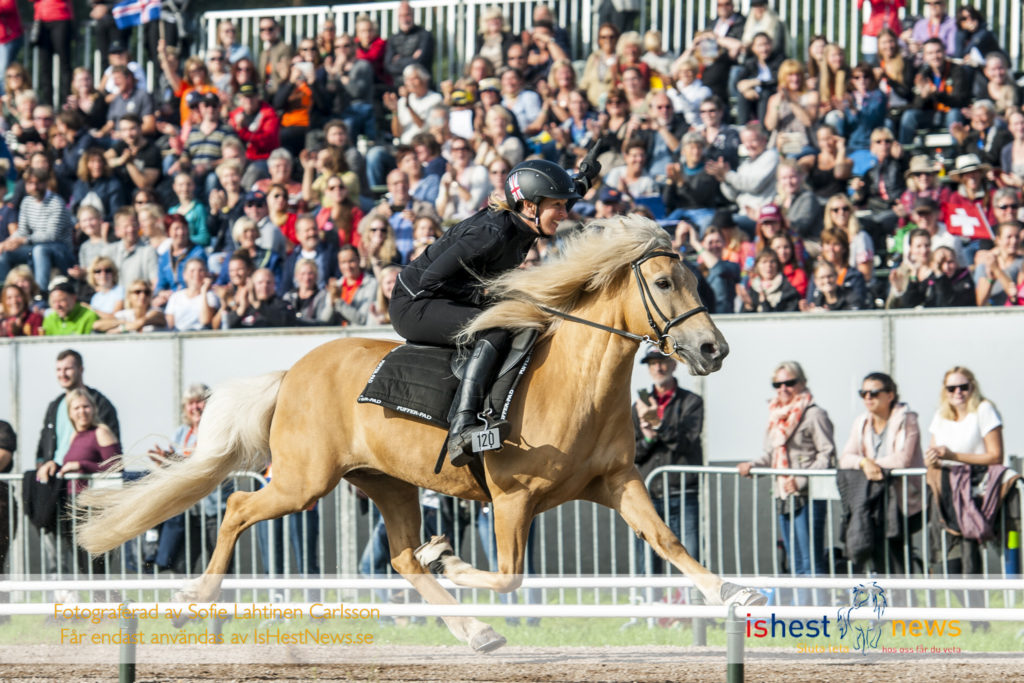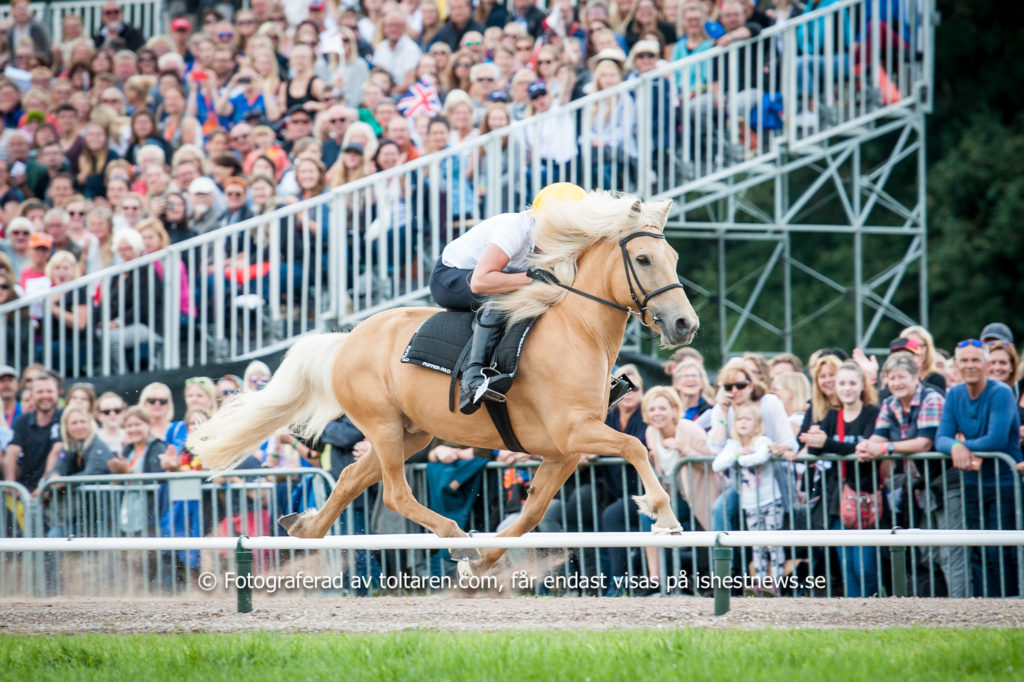 The team of Great Britain had their most successful WC ever during this week in Holland.
This morning Charlotte Cook became a Worldchampion in speedpace P2 with the amazing time 7,43 sec. with her great and very fast palminomare Sæla frá Þóryejarnúpi. It is very impressive to see Charlotte ride her mare on just plain noseband and with a very light contact on the reins. Sæla seems very pleased and happy. Charlottes jockeystyle has got quite a lot of attention and especially among the icelanders. However Charlotte says that she is convinced that she can ride faster like this because she is not disturbing the horse on the sides because of the short stirrups and the airdynamic that goes through.
Yesterday the Great Britain team got their first medal ever (Charlotte and Saela recived the bronzemedal in 250 m pace P1) and Mike Adams, riding Kafteinn frá Kommu, was the first Brit to ride in an oval track final. And this morning Charlotte became a Worldchampion so they are making history. Big congratulations to Charlotte and the whole team of Great Britain!
POS
#
RIDER / HORSE
TOT
01:
120
Charlotte Cook [GB] – Sæla frá Þóreyjarnúpi [IS2006255474]
7,43″
1ST 7,43
2ND 7,71
02:
181
Markus Albrecht Schoch [CH] – Kóngur frá Lækjamóti [IS2002155124]
7,49″
1ST 7,50
2ND 7,49
03:
016
Svavar Örn Hreiðarsson [IS] – Hekla frá Akureyri [IS2005265980]
7,53″
1ST 7,53
2ND 0,00
04:
067
Thomas Vilain Rørvang [DK] – Toppur frá Skarði 1 [IS2003135733]
7,57″
1ST 7,81
2ND 7,57
05:
138
Lona Sneve [YR] [NO] – Stóri-Dímon frá Hraukbæ [IS1996165370]
7,57″
1ST 7,57
2ND 0,00
06:
154
Elise Harryson [YR] [SE] – Lilja från Horshaga [SE2009200003]
7,62″
1ST 7,77
2ND 7,62
07:
101
Helmut Bramesfeld [WC] [DE] – Blöndal vom Störtal [DE2001122960]
7,62″
1ST 7,62
2ND 0,00
08:
001
Ævar Örn Guðjónsson [IS] – Vaka frá Sjávarborg [IS2006257247]
7,63″
1ST 0,00
2ND 7,63
09:
162
Magnús Skúlason [SE] – Valsa från Brösarpsgården [SE2009210614]
7,67″
1ST 7,67
2ND 0,00
09:
166
Þorvaldur Árnason [SE] – Thyrnir från Knubbo [SE2001100506]
7,67″
1ST 0,00
2ND 7,67
11:
011
Konráð Valur Sveinsson [YR] [IS] – Sleipnir frá Skör [IS2009101486]
7,68″
1ST 7,78
2ND 7,68
12:
031
Lisa Förster [AT] – Erill frá Miðsitju [IS2005158844]
7,68″
1ST 7,88
2ND 7,68
13:
113
Svenja Kohl [YR] [DE] – Svartur von Faxaból [DE2001134283]
7,75″
1ST 8,04
2ND 7,75
14:
199
Charlotte White [YR] [NL] – Elja vom Waldhof [DE2003243076]
7,91″
1ST 7,91
2ND 7,91
15:
114
Vicky Eggertsson [DE] – Salvör vom Lindenhof [DE2006241246]
7,92″
1ST 7,92
2ND 8,00
16:
097
Anna-Alice Kesenheimer [YR] [DE] – Vídalín frá Hamrahóli [IS2004186613]
7,93″
1ST 8,92
2ND 7,93
17:
024
Carina Mayerhofer-Piber [AT] – Frami von St. Oswald [AT1997160415]
7,95″
1ST 8,03
2ND 7,95
18:
118
Aidan Carson [YR] [GB] – Óðinn from Inchree [GB2007102026]
7,98″
1ST 8,56
2ND 7,98
19:
205
Nienke Schaafsma [NL] – Nátt frá Hefill [NL2001100016]
7,99″
1ST 7,99
2ND 8,02
20:
176
Ladina Sigurbjörnsson [CH] – Styrla fra Skarstad [NO2008211215]
8,00″
1ST 8,02
2ND 8,00