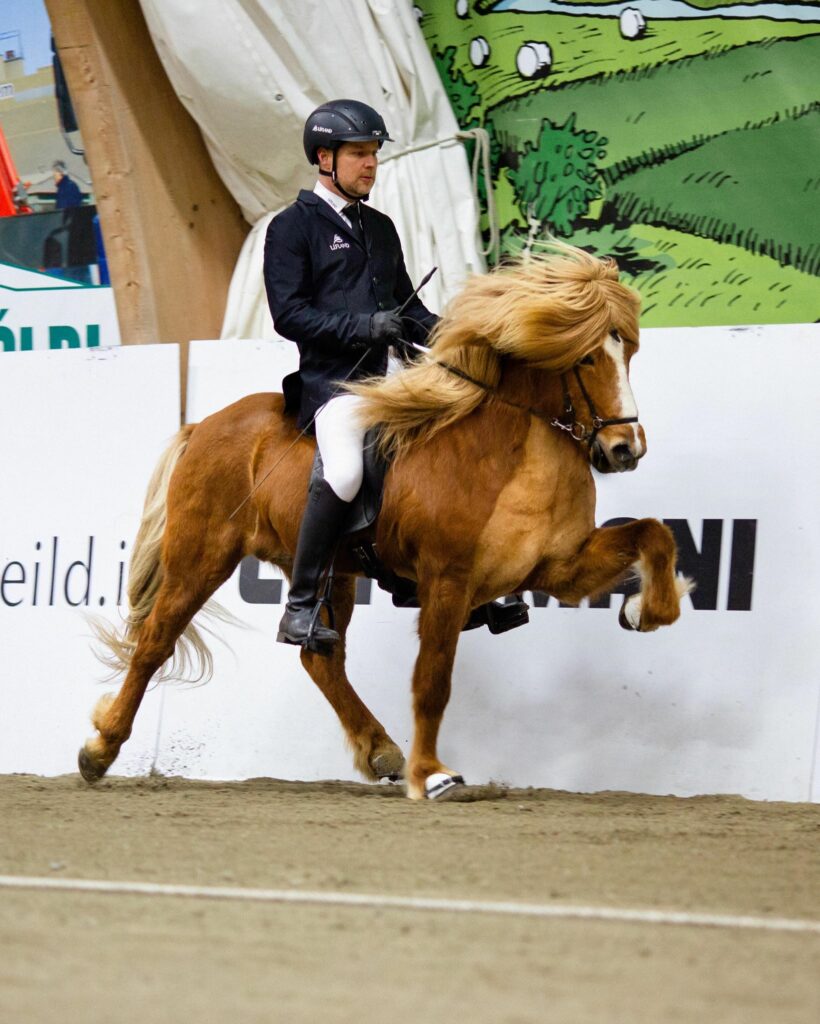 Jakob S. Sigurðsson and Skýr frá Skálakoti win the fivegait, second year in a row, with the score of 7.48. There where some seat changes in the A finals but after the preliminary round Olil Amble was in the lead riding Álfarinn frá Syðri-Gegnshólum with 7.13. Even in second place were Hinrik Bragason riding Byr frá Borgarnesi and Jakob riding Skýr with 7,07. Jakob and Olil switched seats in the A finals with only 0,03 difference. In third was Teitur Árnason riding Sjóður frá Kirkjubæ with 7.38.
Top Reiter is still in the lead in the team competition with 139 points. Team Hrímnir/Export hestar are second with 132,5 points and team Lífland third with 124,5 points.
Jakob is in the lead in the individual competition with 32 points, Aðalheiður Anna in second place with 21 points and Árni Björn third with 18.5 points.
Next up is gæðingafimi – 11th of March – watch live at oz.com/meistaradeildlin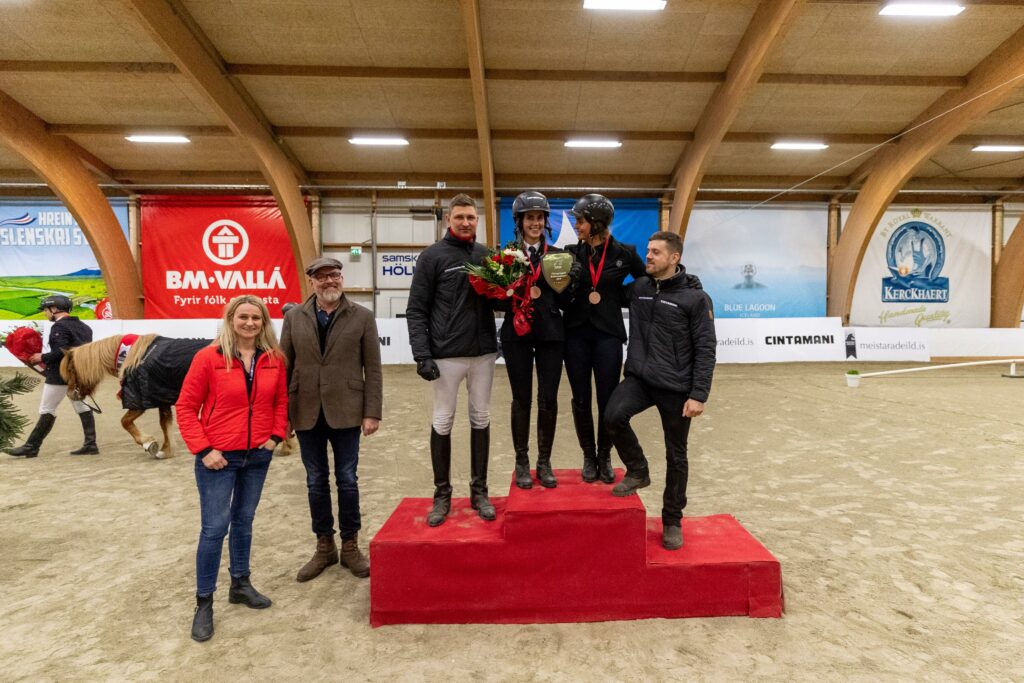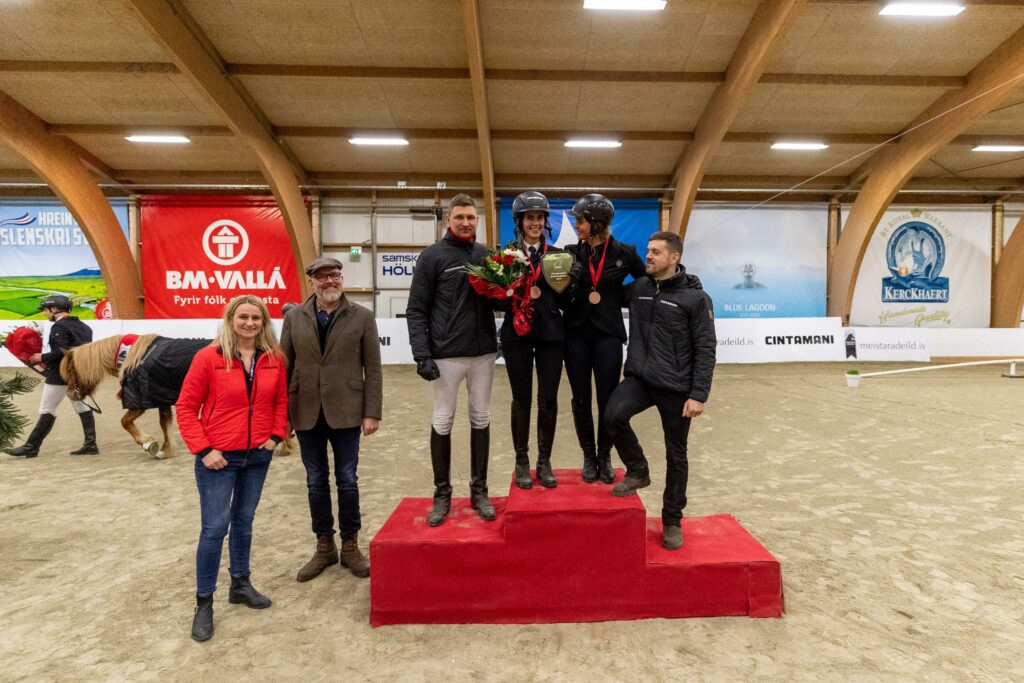 Resultat-femgång F1 – A final:
| | | | | |
| --- | --- | --- | --- | --- |
| Plac. | Ryttare | Häst | Lag | Poäng |
| 1 | Jakob Svavar Sigurðsson | Skýr frá Skálakoti | Lífland | 7.48 |
| 2 | Olil Amble, liðsstjóri | Álfarinn frá Syðri-Gegnishólum | Gangmyllan | 7.45 |
| 3 | Teitur Árnason | Sjóður frá Kirkjubæ | Top Reiter | 7.38 |
| 4 | Aðalheiður Anna Guðjónsdóttir | Brimnir frá Efri-Fitjum | Ganghestar / Margrétarhof | 7.31 |
| 5 | Hinrik Bragason | Byr frá Borgarnesi | Hestvit / Árbakki / Sumarliðabær | 7.19 |
| 6 | Ragnhildur Haraldsdóttir | Þróttur frá Tungu | Ganghestar / Margrétarhof | 5.81 |
Resultat-Uttagning-Femgång:
| | | | | |
| --- | --- | --- | --- | --- |
| Sæti | Knapi | Hestur | Lið | Einkunn |
| 1 | Olil Amble | Álfarinn frá Syðri-Gegnishólum | Gangmyllan | 7.13 |
| 2-3 | Hinrik Bragason | Byr frá Borgarnesi | Hestvit / Árbakki / Sumarliðabær | 7.07 |
| 2-3 | Jakob Svavar Sigurðsson | Skýr frá Skálakoti | Lífland | 7.07 |
| 4 | Ragnhildur Haraldsdóttir | Þróttur frá Tungu | Ganghestar / Margrétarhof | 7.03 |
| 5-6 | Teitur Árnason | Sjóður frá Kirkjubæ | Top Reiter | 7.00 |
| 5-6 | Aðalheiður Anna Guðjónsdóttir | Brimnir frá Efri-Fitjum | Ganghestar / Margrétarhof | 7.00 |
| 7 | Viðar Ingólfsson | Hængur frá Bergi | Hrímnir / Export hestar | 6.87 |
| 8 | Guðmundur Friðrik Björgvinsson | Elrir frá Rauðalæk | Lífland | 6.83 |
| 9 | Þórarinn Ragnarsson | Ronja frá Vesturkoti | Hrímnir / Export hestar | 6.80 |
| 10 | Árni Björn Pálsson | Jökull frá Breiðholti í Flóa | Top Reiter | 6.73 |
| 11 | Gústaf Ásgeir Hinriksson | Sproti frá Innri-Skeljabrekku | Hestvit / Árbakki / Sumarliðabær | 6.70 |
| 12 | Ásmundur Ernir Snorrason | Kaldi frá Ytra-Vallholti | Auðsholtshjáleiga / Horse export | 6.63 |
| 13 | Sigurður Vignir Matthíasson | Milljarður frá Barká | Ganghestar / Margrétarhof | 6.57 |
| 14 | Hulda Gústafsdóttir | Roði frá Brúnastöðum 2 | Hestvit / Árbakki / Sumarliðabær | 6.50 |
| 15 | Hanna Rún Ingibergsdóttir | Dropi frá Kirkjubæ | Lífland | 6.40 |
| 16 | Sigurður Sigurðarson | Árdís frá Litlalandi | Gangmyllan | 6.27 |
| 17 | Helga Una Björnsdóttir | Júlía frá Syðri-Reykjum | Hrímnir / Export hestar | 6.23 |
| 18 | Sigurbjörn Bárðarson | Flóki frá Oddhóli | Torfhús retreat | 6.17 |
| 19-20 | Bergur Jónsson | Spurning frá Syðri-Gegnishólum | Gangmyllan | 6.13 |
| 19-20 | Sina Scholz | Nói frá Saurbæ | Torfhús retreat | 6.13 |
| 21 | Þórdís Erla Gunnarsdóttir | Hrafnar frá Auðsholtshjáleigu | Auðsholtshjáleiga / Horse export | 6.03 |
| 22-23 | Sylvía Sigurbjörnsdóttir | Héðinn Skúli frá Oddhóli | Auðsholtshjáleiga / Horse export | 5.93 |
| 22-23 | Arnar Bjarki Sigurðsson | Snillingur frá Íbishóli | Torfhús retreat | 5.93 |
| 24 | Matthías Leó Matthíasson | Galdur frá Leirubakka | Top Reiter | 5.33 |